Authentic Hardwood Flooring from Carpet Direct
When only the best will do, hardwood flooring from Carpet Direct is the obvious choice.
Hardwood Flooring Selection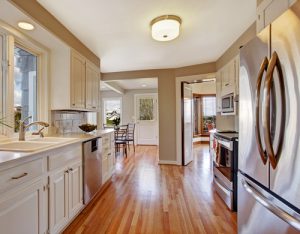 Hardwood flooring is impressive, to say the least. A home with authentic hardwood flooring is immediately eye-catching to any onlooker. If you're interested in adding the timeless elegance of hardwood to your residence, look no further than Carpet Direct. With over 40 years in the flooring industry, we've proven time and again that we offer only the very best in genuine hardwood flooring, and we'll do it while saving you between 30 and 60 percent off the retail price. 
The Type of Flooring
Hardwood flooring comes in two different types: solid wood and engineered wood.  Solid wood has been used for centuries for flooring. It looks great and lasts for a long time. 
Our solid wood comes pre-finished, meaning that it is already stained and finished at the factory. You can also decide if you want to buy solid wood flooring in strips, planks, or parquets. Strips can be fairly thick, while planks can be wider. Parquets are actually wooden slats that have been glued or fastened together.  They can be used to add interesting patterns to your floor.
Engineered wood is modified wood—it takes solid wood and adds layers of plastic laminate veneer on top of it to give it extra durability and keep it looking great for years. Both are excellent choices for flooring and depend solely upon your preference and budget.
Different Woods
Another big decision is selecting the wood. You have a number of options. Oak, birch, pine, cherry, Douglas fir…all are great choices. Oak is going to be more budget-friendly, but if you have the money, you could go with something really exotic like Santos mahogany or Brazilian cherry. Our hardwood specialists are standing by, waiting to help you find the right option for you!
Flooring Options