Quality Tiling Options from Carpet Direct.
Carpet Direct has added even more tile selections to our huge tile portfolio. See what's new in the world of tile!
Bathroom and Kitchen Tile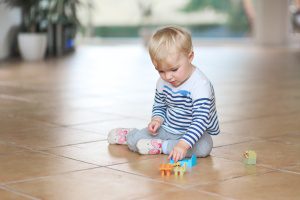 Putting down new tile in the bathroom or kitchen is a good way of making the room look completely different.  The professional tile installation teams we recommend are ready to assist you with this project, but before we can do that, you have to decide which tiles you want to use.  There are many different options out there, so here are some things you'll need to consider when selecting your perfect tile(s).
What Kind Do You Want?
Do you want ceramic, porcelain, or stone?  If you want stone, do you want limestone, marble, granite, or another type?  At first glance, it seems like there are many different choices.  However, you can weed out some of these choices simply based on the following questions.
Where Will The Tile Be Used?
If the tile is going in the kitchen, you can eliminate ceramic tiles and some stone ones because they're simply not suited for high-traffic areas. The best ceramic tiles are only rated for moderate use.  Some stone, such as limestone, can easily be stained or scratched. Guest bathrooms, on the other hand, have more options because they're not used as often.
Do You Want To Pick The Color?
Obviously, stone tiles aren't as customizable as porcelain and ceramic tiles are. You can't really change the color of marble, for example.  However, glazed porcelain tiles come in many different colors and patterns. You will find porcelain tiles that match your current room, or give the area a complete makeover with something unexpected. You may even be able to custom-order tiles in specific colors.
What's Your Budget?
This may be the factor that determines more than anything else.  Ceramic and porcelain tiles tend to be fairly affordable, while granite and marble can be much more expensive. Your local flooring consultant will sit down with you to discuss your options and give you an affordable quote that will work within your budget.
Flooring Options