Laminate Flooring Options from Carpet Direct.
Laminates offer the very best of two worlds – beauty and value!
Quality Laminate Flooring With Professional Installation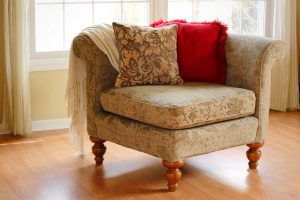 Laminate flooring is becoming more and more popular.  That's because it has two major advantages: it looks like real wood flooring, but it costs a fraction of the price.  It's also very easy to install and can even be customized.  
How Does Laminate Differ From Other Flooring?
One thing people wonder about is how laminate is different from other types of flooring.  The answer lies in how it's made.  Laminate is created from different layers that have been joined together via heat and pressure.  These layers include a strong high-density fiberboard that gives the flooring its stability and durability. The layer that's really of interest to most people is the visual layer, which is located underneath the clear top layer. This visual layer is a highly detailed print of a piece of wood.  It's very realistic and, once the flooring is installed, looks very similar to an actual wood floor.
Customizable Options
Laminate can be easily customized because it's completely manufactured.  While most laminates are made to resemble wood, it doesn't have to be. Laminate can be printed to look like marble, granite, or anything else. It can also be finished in several different ways. Embossed laminate feels more realistic to the touch and highlights the grain in the wood, while hand scraped laminate has a very natural, worn look. High gloss, on the other hand, is more contemporary and makes the floor shine.
Professional Installation
Having your laminate flooring professionally installed in your home or office is the way to go. You don't have to worry about anything. We will even help move your furniture out of the room and put it back when we're done. With help from a preferred local installer, we can install the laminate over your existing floor, or we can remove the old flooring and put down a new underlayment.
Flooring Options